New Book Launched!

Sandy Historical Research Group proudly launched Volume 2 of their series of old photos of Sandy, 'Pictorial Memories of Sandy', on Monday 2nd November 2009. The launch, which was carried out by SHRG Chairman,

Mick Reynolds

and members of the committee, was attended by Sandy Town Mayor,

Geoff White

. Mick expressed his sincere thanks for all the hard work put in by committee members over the last 6 months, without which, the new book would not have been possible.
Fewer than anticipated members of the public attended this launch but the new book has been enthusiastically received, with several advance orders having been received prior to launch day. Quite a few of these orders were for sets (volumes 1 & 2 together), which proves the continuing popularity of the first volume.
Shown below are just a few of the photos taken at the event

.
See our
'
Books & Memorabilia'
page for details of how to buy the new book and also the special offer for volumes 1 & 2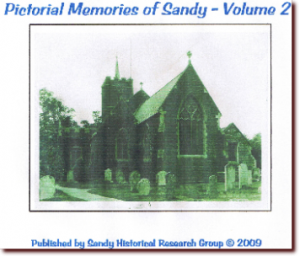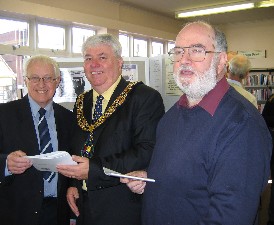 If you want to know more about Sandy Historical Research Group, please email the Chairman..
For issues regarding this website, please email the Webmaster.