Publications
B

ook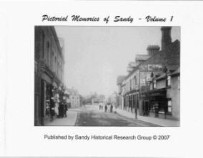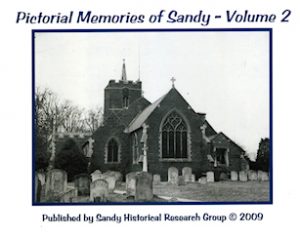 Sandy Historical Research Group has published two volumes of "Pictorial Memories of Sandy", each containing 40 or so views and images of Sandy life. These booklets are priced at £9.99 each, and can be obtained:
At our exhibitions, talks, and other events, where we usually have stocks on sale;
From Sandy Post Office in the Market Square, Sandy;
By post – please send your cheque made out to "Sandy Historical Research Group" to SHRG, 4 Heron Close, Sandy, Bedfordshire SG19 1NN, specifying how many copies and which volumes you require, and giving your name and address and the name and address of the recipient (if not your own). Postage and packaging is free to UK destinations, and we will be happy to send to other locations around the world on payment of the appropriate postal charges.
Postcard Packs
New packs of 8 "Sandy Memories" postcards are now also available, and are priced at £3.50 per pack. The postcard packs are also available at our exhibitions, talks and other events, from Sandy Greeting and Stationery in the Market Square, and by post (as set out above).
SHRUB Magazine
 Back numbers of most editions of SHRUB magazine are available for sale; prices vary from £1.00 to £3.50 depending on the edition required. A selection of back numbers are usually available at our exhibitions, talks and events.
If you would like to know more about Sandy Historical Research Group, have a question about Sandy's history, or would like to contribute to our activities, please email the Secretary email the Secretary
For issues regarding this website, please email the Webmaster