A
bout Sandy Historical Research Group

Sandy Historical Research Group was formed in late 2001 in order to gather together a small number of like-minded individuals, who were committed to preserving as much of Sandy's social and economic history as possible, through the acquisition and archiving of old photographs, documents, maps and artefacts.
From these small beginnings, the group has gradually achieved part of its original mission, having preserved and archived more than 2500 old photographs, as well as old documents, maps, deeds and indeed many artefacts, from cartwheels & milk churns to stoves! Some of the personnel have changed, through relocation or retirement
From the early days, we were able to introduce a newsletter, 'SHRUB', which was essentially compiled from members' contributions of anecdotes, articles and historical stories about Sandy's history.
The original intent was to focus on the last 150 -200 years, as deeds & documentation are harder to come by for earlier times. Nonetheless, we are always on the lookout for any items that will tell us more about Sandy's past history.
Also in 2002, we were able to introduce this website, which has enabled us to share what we know with a wider audience – some of the information we now hold has been received from visitors to the website, even from places as far away as the USA, Australia & New Zealand.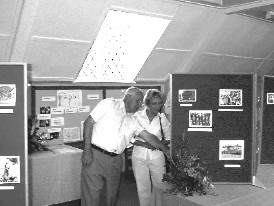 However, we realise that not everyone in and around Sandy has access to the Internet, or indeed is 'web savvy', so we mount regular exhibitions through the year, often in conjunction with other town events such as The Sandy Show or the Sandy Carnival. We also hold 'standalone' exhibitions and open meetings, so that those with an interest in local history can see what we are about. In more recent times, we have given presentations to local schools and community groups.
We have also produced a Postcard Pack, which contains views of Sandy not seen in other printed media and this item remains a popular buy.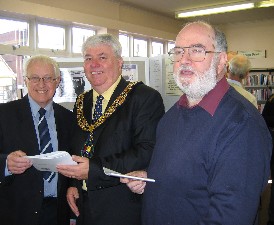 In 2007 we were able to publish our first volume of old photographs -'Pictorial Memories of Sandy – Volume 1', which sold very well and we have now published Volume 2 (launched November 2009).
Our long term mission is to gain a museum for the town, for the education and benefit of Sandy's citizens, local schools and the many visitors who come to the town every year. Such a local attraction, whilst serving the town would also help to boost trade, particularly in the food and drink sector. We have, over time, viewed and investigated a number of potential sites, all of which have had their 'pros and cons'. It may take a few years yet but we will get there!
Mick Reynolds,
Chairman Sandy Historical Research Group
If you want to know more about Sandy Historical Research Group, please email the Chairman .
For issues regarding this website, please email the Webmaster